Features and Profiles
#WhyIRideDCTA: Janelle Van Benthem
February 22, 2019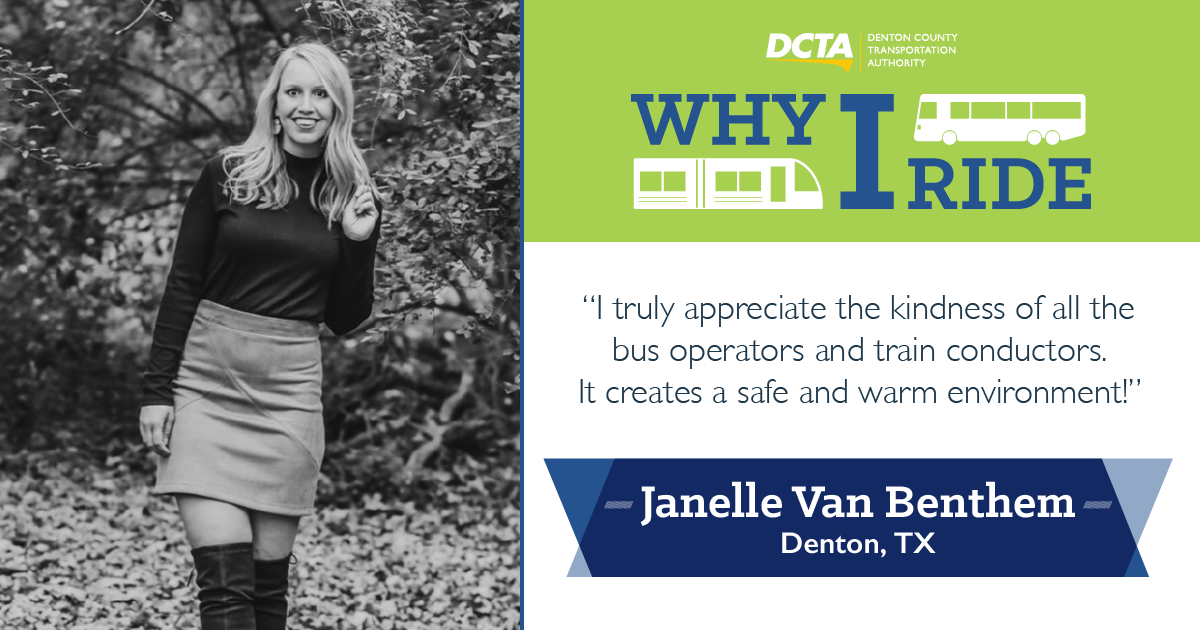 Denton resident Janelle Van Benthem has been riding our system for three years! This loyal rider not only rides our A-train, but she also rides Denton Connect and the University of North Texas (UNT) Campus Shuttles. When riding to work she likes to listen to podcasts and chat with our bus operators and train conductors. Here are some other reasons why Janelle likes to #RideDCTA:
Q: What do you enjoy the most about riding DCTA?
A: I am legally blind — however, I am still very independent. Due to this, I can still live a normal life I just cannot drive, which is difficult living in Texas. I've been riding with DCTA for almost three years now! Most of my time I ride DCTA to get to and from work. I truly appreciate the kindness of all the bus operators and train conductors. It creates a safe and warm environment. Thank you for creating a service that I can use to transport myself!
Q: What are some of your favorite things to do while riding DCTA?
A: I like to listen to podcasts while riding DCTA.
Q: Do you have any advice to offer about riding DCTA to passengers and non-passengers?
A: If you need assistance, talk to the bus operators and train conductors. They are friendly and always willing to help!
Thanks for sharing with us, Janelle!
Make sure to tell us why you #RideDCTA here for a chance to win 10-pack of regional day passes! Click here to submit your story.
---
Sign up for Updates
"*" indicates required fields