Rider Tips
#AskDCTA: What are DCTA's Guidelines for Parking at the A-train Stations and DDTC?
January 24, 2017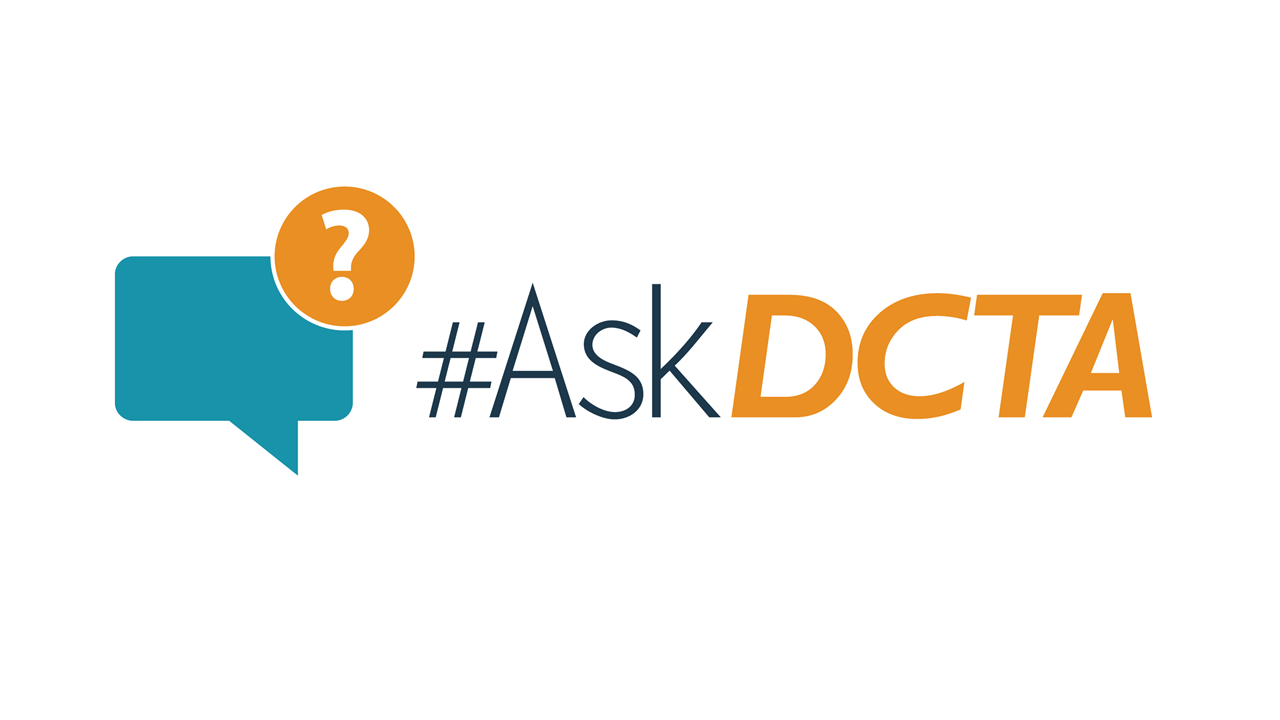 Have you ever wondered about whether you can bring your pet on the A-train? Have you ever needed to know about long-term parking options at the DDTC? Now you can #AskDCTA! In our new monthly series, our customer service team will be answering frequently-asked rider questions so we can better engage with our passengers and improve their experience when riding DCTA.
For the month of January, Pat Kuykendall gave us insight on DCTA's parking guidelines. Check out her helpful tidbits below!
Where can I park at the DDTC if it is full?
If the DDTC parking lot is full, you can park south of the DDTC at Exposition and Hickory, which is just a hop away from our transit center!
Are there long-term parking options at DCTA? What are they?
Yes! Long-term parking is allowed for up to 10 consecutive days with an online reservation and printed permit. A valid permit is required for any vehicle exceeding the 24-hour limit at designated locations. To get a parking permit, visit RideDCTA.net.
After ordering a parking permit, how long until I receive it?
Typically, I recommend allowing up to three business days to receive your parking permit.
How much time should I allow between parking and boarding a DCTA vehicle to ensure I am on time?
I usually tell people to allow about five minutes to park and walk to the A-train platform. However, keep in mind to purchase your fare prior to boarding.
Where are the best places to park at the other A-train stations?
I recommend that riders park at one of our larger parking lots such as MedPark Station in Denton or Old Town and Hebron Station in Lewisville if possible. There is also some additional parking at Highland Village/Lewisville Lake Station at the City of Lewisville Recreation parking lot across the street.
Are DCTA parking lots monitored by any type of security?
Yes, our A-train station parking lots are monitored by a Denton County sheriff. However, riders should be aware that DCTA assumes no responsibility for vehicles left overnight.
We hope Pat helped answer all of your questions about parking! You can also check out our parking page here for more information: https://www.dcta.net/routes-schedules/a-train/parking.
Have another question you want our customer service team to answer? Here's how you can submit them:
Send your feedback via our GORequest online customer service tool and choose the menu option "#AskDCTA Series"
Drop a note in the comments section on our Hop on Board blog
While we can't guarantee that every question submitted will be answered, we will consider all inquiries and will feature questions that will greatly benefit the majority of our riders.
---
Sign up for Updates
"*" indicates required fields