Rider Tips
#AskDCTA: What Customer Service Tools Does DCTA Offer Riders?
November 28, 2017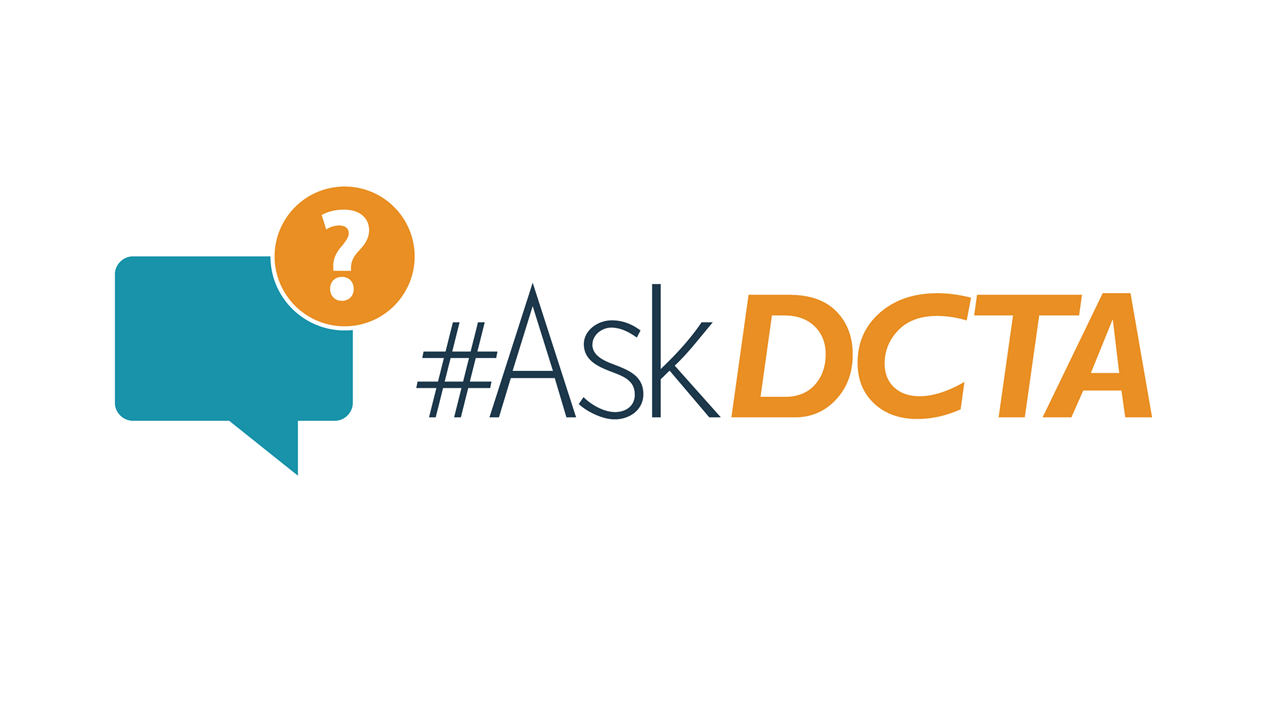 Have you ever needed to know the best tips for first-time riders? Not sure how to use our GORequest system? Now you can #AskDCTA! In our monthly blog content series, our customer service team answers frequently-asked rider questions to better engage with our riders and improve their experience when riding DCTA.
For the month of November, Samantha Balderas – Customer Communications Specialist – gave us some insight on DCTA's customer service tools for passengers.
Who do I contact if I have a question about DCTA services?
Our Customer Service team is available to assist passengers with information about bus and rail operations, trip planning, and scheduling assistance. For immediate assistance, call us at 940.243.0077. If you prefer to walk in, you can visit us at the Downtown Denton Transit Center (DDTC) located at 604 E. Hickory Street in Denton, Texas. Hours and holiday schedule for the call center and the DDTC are as followed:
Monday through Friday: 5 a.m. to 7 p.m.
Saturday: 8 a.m. to 4 p.m.
Sunday: Closed
Closed on New Year's Day, Memorial Day, Independence Day, Labor Day, Thanksgiving, and Christmas
Passengers can also contact us online at any time by using our GORequest system. It's an easy and convenient way to get your questions, comments, and feedback answered and addressed by DCTA staff!  To access GORequest, visit our website's homepage and click on GORequest in the footer under the "Customer Service" section. We also have a free mobile app for Android and iPhone users. Just search "GORequest" in the Apple App store or Google Play store to download the app! Check out our recent GORequest blog post for more information!
How can I receive updates and news alerts from DCTA?
Rider Alerts
Stay informed with real-time updates from DCTA by signing up for our Rider Alerts email subscription system! These alerts keep passengers informed on any service delays, detours, and route changes. Singing up is easy and completely customizable. Key features of the Rider Alerts subscription system include:
Flexibility – Allows users to select specific DCTA services, routes, etc. in their subscription
More Topics– Riders can choose from a new, expanded topic list to meet their personal travel needs
Customization – Offers Rider Alert delivery preferences, including instant, daily or weekly communications
Major Service Suspension Notifications – Passengers can receive text message notifications for lengthy service suspension announcements
Social Media
Follow us on social media to stay up-to-date on all things DCTA! You can check out our Facebook and Twitter pages for service updates and announcements. Our social media monitoring hours are Monday through Friday from 8 a.m. to 5 p.m. We do not monitor social media during major holidays as well. For immediate assistance, call DCTA Customer Service at 940.243.0077.
enRoute News
DCTA's enRoute News is a monthly passenger e-newsletter that includes agency news, a roundup of community events, and helpful tips to enhance your experience when riding DCTA and more! Always be in the know by singing up for enRoute News!
Open House/Public Meetings
DCTA open house and public meetings are a great way to stay informed on major agency projects and initiatives. These meetings are open to the public and are hosted in various areas of Denton County. Get your questions answered by DCTA staff at our next open house meeting! Follow us on social media or sign up for our Ride Alerts to get updates on upcoming meetings.
Does DCTA offer vehicle tracking tools for passengers?
We do! Our new Transit Tracker system replaced our previous Where's My Ride tracking system. The Transit Tracker provides passengers with real-time information for the DCTA A-train and fixed route shuttle services. Enhanced key features and capabilities of the new tracking system include:
Phone (Voice)
Passengers can call 940.243.0077, select the Transit Tracker option from the phone menu, enter the stop ID, and receive a real-time update on the vehicle.
Text
Passengers can receive SMS messages using our Transit Tracker text feature. Text the stop ID to the number 64255 to receive an estimated arrive time of the bus or A-train.
Mobile Application
Download the free Transit mobile application from the Apple App store or the Google Play store. The Transit app allows passengers to see vehicle locations in real-time, find nearby stops, receive notifications of the vehicles departure, and more! Quick tip: your location must be enabled on your smart phone in order to use the Transit app tracking features!
Web
Passengers can visit DCTAtracker.net to see the nearest bus routes and arrival times. You can also find the Transit Tracker widget on our website's homepage at RideDCTA.net.
To see the difference between Where's My Ride and Transit Tracker, visit last month's In the Know blog post!
How can I plan my next trip?
You can plan your next trip with the Trip Planner tool on our homepage at RideDCTA.net. Enter the trip information such as address, departure or arrival time, and the date to receive detailed transportation options. You can also see the cost of the trip and an estimated travel time. Don't forget, tickets can be purchased ahead of time on the GoPass app!
Riders can also call our Customer Service team for trip planning assistance. Call 940.243.0077 to plan your next trip with DCTA!
We hope Samantha helped answer all of your questions about our customer service tools!
Have another question you want our customer service team to answer? Here's how you can submit them:
Send your feedback via our GORequest online customer service tool and choose the menu option "#AskDCTA Series"
Drop a note in the comments section on our Hop on Board blog.
While we can't guarantee that every question submitted will be answered, we will consider all inquiries and will feature questions that will greatly benefit the majority of our riders!
---
Sign up for Updates
"*" indicates required fields