Rider Tips
#AskDCTA: What is DCTA Doing in Response to Coronavirus (COVID-19)?
April 21, 2020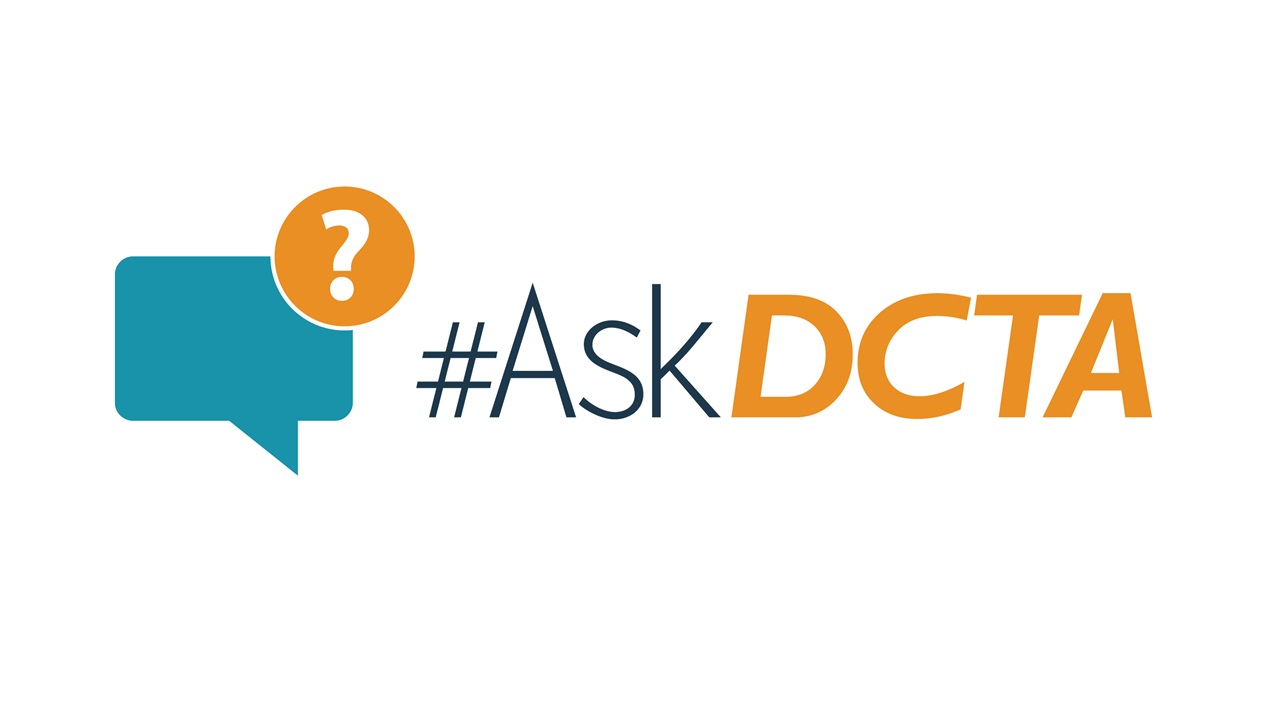 We're closely monitoring what is happening with the novel coronavirus (COVID-19). Preventing the spread of COVID-19 is a team effort. We're taking extra precautions to keep our passengers and employees healthy and to ensure a safe commute for riders. We are continuing to operate as an essential business by the Denton County "stay at home" declaration.
For the month of April, Samantha Sanguino – Quality Control Coordinator— gives us insight into what we're doing in response to the COVID-19 health emergency!
How has COVID-19 impacted bus and train service?
In response to the COVID-19 health emergency, we have reduced service hours and frequency for the A-train and Connect bus service.
A-train
A-train service is now provided hourly Monday through Friday from 6 a.m. to 9 p.m. Saturday service remains unchanged. To download our COVID-19 service schedule, click here.
Denton and Lewisville Connect
We reduced fixed-route service hours and frequency. Service will operate Monday through Friday on a modified Saturday schedule with an additional trip provided in the morning.  Saturday service will remain the same as the current schedule. To view all current schedules, click here.
UNT and NCTC Campus Shuttle Service
Shuttle service for the University of North Texas (UNT) and North Central Texas College (NCTC) are constantly updated based on university and college closures. Students can visit RideDCTA.net for more up-to-date information.
2. Can I still visit the Downtown Denton Transit Center?
The Downtown Denton Transit Center (DDTC) lobby and restrooms are closed until further notice. Customer service is open to assist passengers via phone at 940.243.0077. Passengers are permitted to enter the building only for purchasing passes at the ticket window.
Ticket window and customer service hours will remain:
Monday through Friday from 5 a.m. to 7 p.m.
Saturdays from 8 a.m. to 4 p.m.
Closed on Sundays
The DDTC A-train platform will remain open for rail passengers.
3. How can I get to my final destination if bus service ends before A-train service?
Because bus service ends prior to A-train service, DCTA will provide on-demand service to assist rail passengers to get to their final destination. This on-demand service will be provided from the Downtown Denton Transit Center, MedPark station, Old Town station and the Hebron station.
The on-demand service will operate similarly to our Lewisville Lakeway Zone, where customers can request a trip using the Spare Rider app available for download in the Apple and Google Play stores.
Download instructions on how to use the on-demand service below.
4. Are DCTA vehicles being cleaned and sanitized?
Yes! Here is what we're doing to keep our passengers and employees safe:
Along with our regular daily cleanings, we are using a medical-grade disinfecting spray on all DCTA buses, trains and Downtown Denton Transit Center (DDTC).
In addition, on a daily basis, all buses and trains are sprayed with a broad-spectrum disinfectant that is effective against a range of microorganisms.
Additional attention is being placed on high touch point areas such as door handles, countertops and steering wheels; and we continue to evaluate our cleaning processes as needed.
Operators are provided additional personal protective equipment (PPE) supplies with each shift including gloves, disinfectant wipes and masks when available.
5. How can passengers #RideDCTA safely and responsibly during this time?
Passengers should follow the recommendations established by local and national health authorities. We recommend following the safety guidelines set by the Center for Disease Control and Prevention (CDC). This includes washing hands often or using hand sanitizer, practicing social distancing, covering your mouth when coughing or sneezing and wearing face coverings as recommended by the CDC.
For more COVID-19 safety tips, watch our short video below!
6. What is the new Lost and Found Policy?
We updated our Lost and Found policy to protect riders and employees during COVID-19. Because the DDTC lobby is closed, if you have lost a high priority item on DCTA property, you must first call the agency's customer service team at 940.243.0077. If DCTA is in possession of your lost item(s) and can verify ownership, you may schedule a time to retrieve your item(s) at the DDTC located at 604 E. Hickory Street between 8 a.m. and 5 p.m. Monday through Friday. Some items like backpacks and other large items may be subject to a 14-day quarantine.
7. Where can I find more information about COVID-19?
Passengers can find more information about COVID-19 on the CDC website. In addition, we have launched an official COVID-19 web page for passengers to stay informed on all updates regarding service, ways we're keeping people safe, etc.
We also encourage passengers to sign up to receive our Rider Alerts for real-time updates on service changes and agency updates.
Passengers can also get more information on our social media channels. Follow us on Twitter and Facebook to receive live updates.
We hope Samantha helped answer all your questions about our response to COVID-19! Have another question you want our customer service team to answer? Here's how you can submit them:
Send your feedback via our GORequest online customer service tool and choose the menu option "#AskDCTA Series"
Drop a note in the comments section on our Hop on Board blog
While we can't guarantee that every question submitted will be answered, we will consider all inquiries and will feature questions that will greatly benefit most of our riders! Have feedback about this article, feel free to put your comment(s) below!
---
Sign up for Updates
"*" indicates required fields