Rider Tips
#AskDCTA: What is DCTA's Lost and Found Policy?
January 30, 2018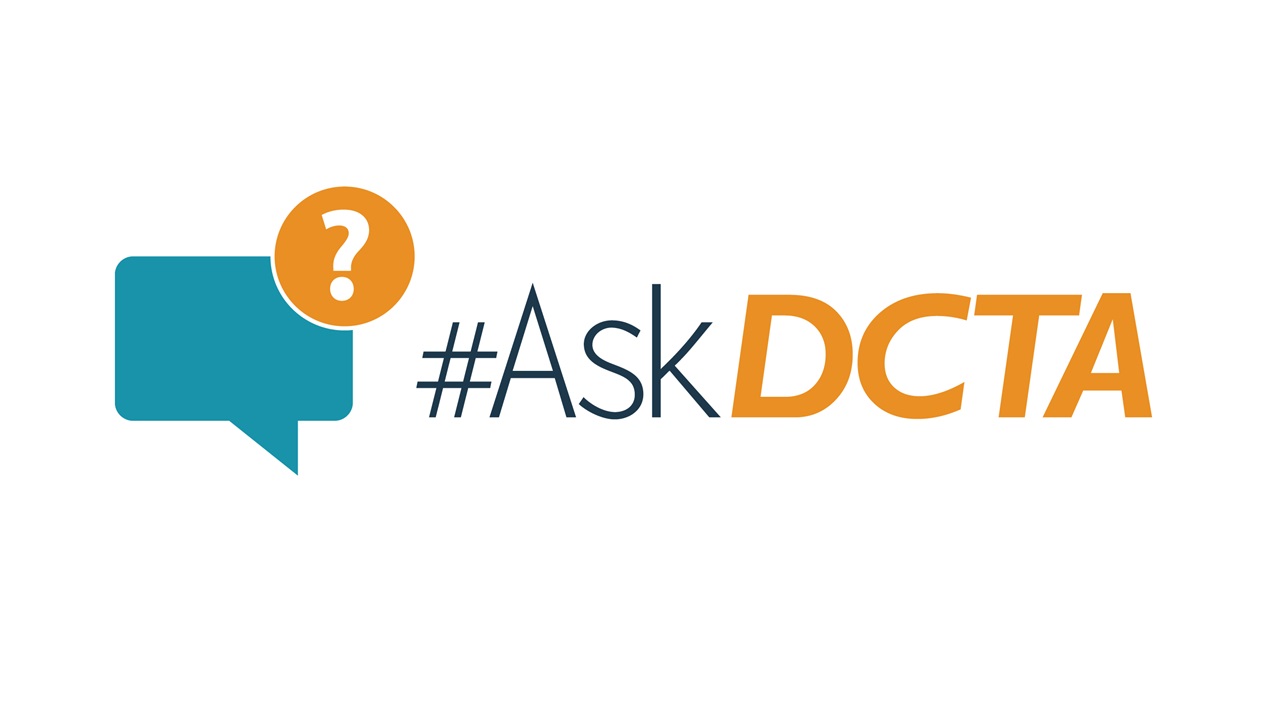 Have you ever wondered how DCTA operates during winter weather? Not sure how to use our GORequest system? Now you can #AskDCTA! In our monthly blog content series, our customer service team answers frequently-asked rider questions to better engage with our riders and improve their experience when riding DCTA.
For the month of January, Samantha Balderas – Customer Communication Specialist—gave us some insight on DCTA's lost and found policy.
What Happens if I Lose an Item on the Bus or A-train?
Forgot something? While DCTA is not responsible for lost, stolen, or damaged items, our Customer Service staff will help riders recover lost or forgotten items. Here is a step-by-step process of what happens when you forget something on a DCTA vehicle:
DCTA operators check the vehicles periodically for items that have been left behind.
Our lost and found procedure ensures that all items are tracked from the moment the operator discovers the item to its delivery at the Downtown Denton Transit Center (DDTC).
Operators are instructed to contact our Dispatch office, which is the communications hub for bus operations, as soon as an item has been left on the vehicle.
Dispatch then records the item on the lost and found log, along with detailed information about the item and where it was found.
All items are either turned in to a supervisor or dispatch where additional documentation is needed to ensure the item has been retrieved.
After all items have been gathered, a supervisor and Dispatch will sign a lost and found form before transferring materials to its final destination at the DDTC.
All items received at the DDTC are then logged by our Customer Service staff.
Who Should I Contact About My Lost Item(s)?
If you're looking for a lost item, call our Customer Service team at 940.243.0077. Provide a detailed description of the item, when and where you list it. This information helps our staff track down your lost item(s).
You can contact us via GORequest for lost and found inquiries. Choose the "Lost and Found" topic and include detailed information about your item. The request will go directly to our Customer Service team and they will contact you within one to three business days.
Who Should I Contact if I Lost an Item on a University of North Texas Campus Shuttle Bus?
Some items from UNT Campus Shuttles get turned in to the DDTC, however students should check lost and found locations on campus. Contact the UNT Student Union at 940.565.3805, or visit their information desk located on the second floor of the Union. The Business Leadership Building (BLB) is also a great place to check for lost and found items. Call 940.565.2350 or visit the Lost and Found located in room 185 and 190.
How Soon Can I Retrieve My Lost Item?
Lost and Found items should be claimed at the DDTC during business hours. The hours of operation are as follows:
Monday to Friday: 5 a.m. – 7 p.m.
Saturday: 8 a.m. – 4 p.m.
Sunday: Closed
If an item is lost and we are closed for the holidays, customers will need to wait until the DDTC is open to claim an item. Customers are free to call the Customer Service line and leave a voicemail. State your name, phone number, and a description of the item and a customer service representative will return your call when the DDTC resumes normal business hours. All items will remain at the DDTC for 30 days from the date it was logged in our system.
Items can be claimed as soon as same day or next day. It is always best to call our Customer Service team to check if the missing item has made it to the DDTC. Please keep in mind that a photo ID such as a driver's license or state issued ID is required in order to claim a lost and found item.
Can I Have Lost and Found Items Shipped to My Address?
The DDTC does not mail out lost and found items. Items must be claimed in person with a valid photo ID. If items aren't claimed after 30 days, they will be donated to the Salvation Army. Unclaimed medication will be disposed of at the Denton Police Department after 30 days.
We hope Samantha helped answer all of your questions about our Lost and Found policy! Have another question you want our customer service team to answer? Here's how you can submit them:
Send your feedback via our GORequest online customer service tool and choose the menu option "#AskDCTA Series"
Drop a note in the comments section on our Hop on Board blog.
While we can't guarantee that every question submitted will be answered, we will consider all inquiries and will feature questions that will greatly benefit the majority of our riders!
---
Sign up for Updates
"*" indicates required fields