Rider Tips
Best of Series – Your Summertime Family-Fun Guide
July 10, 2018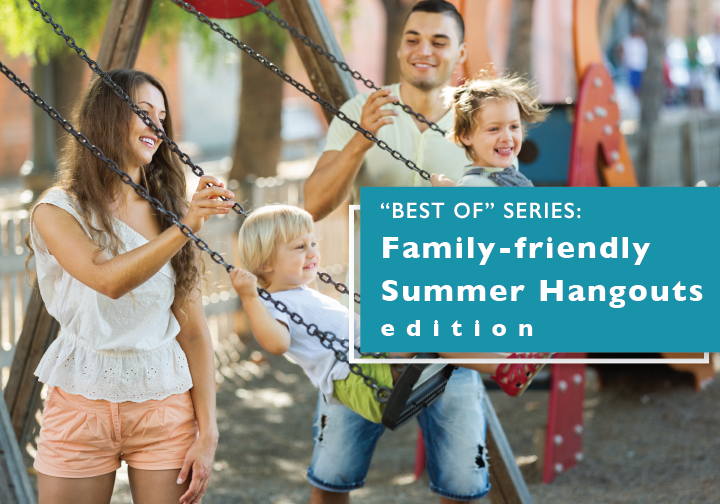 Take advantage of the last two months of summer by enjoying the sun – or staying out of the heat – with the whole family. There are so many fun places to go, and DCTA is here to help you get to all of them! We've compiled a list of some local hidden gems as well as community favorites that we hope you will enjoy.
Highland Village:
Unity Park (Highland Village Connect Bus)
Grab some sunscreen and pack some snacks and head over to Highland Village's Unity Park! The whole family can enjoy all that the park has to offer with multiple sports fields, hike and bike trails, a kids' playground, grills, a picnic pavilion and more. Unity Park also holds the city's movies in the park, showing family-friendly movies and bringing food trucks once a month!
AMC Highland Village 12 (Highland Village Connect Bus and Lyft Discount Program)
The summer movie season is in full swing, and what's a better way to enjoy a day off than relaxing at the movies? Plan a movie date at AMC Highland Village 12 and catch one of the summer blockbusters you've been waiting to see! AMC offers $5 tickets on Tuesdays to members of its free Stubs Insider program, so stop by and save some money!
Shops of Highland Village (Highland Village Connect Bus and Lyft Discount Program)
Get all your shopping and dining cravings here! The Shops at Highland Village has various retailers and restaurants to visit for a fun day of shopping bliss. They also host a variety of events and have a list of special savings from retailer you don't want to miss.
Denton:
Patterson-Appleton Arts Center (Denton Connect Routes 7 and 8)
Are you looking for something fun to do in downtown Denton? Visiting the Patterson-Appleton Arts Center is a great way to get out of the summer sun and experience the work of local artists and more for FREE. Guided tours are also available for free to all K-12 and university students and $5 for adults.
Denton Civic Center Pool (Denton Connect Routes 7 and 8)
Summertime is the right time, for pool time! Might we suggest the Denton Civic Center Pool? The center has water slides for adults and children, a kids' lily pad walk and a shaded area for whenever you're ready to take a break from all the fun. Daily admission is $4 for adults, $3 for children ages three to 17 and free for children two and under.
SCRAP Denton (Denton Connect Route 7 and 8)
Sometimes you need to get out of the heat, and SCRAP Denton is the perfect place to do so while also getting your creative juices flowing! They aim to inspire creative reuse and environmentally sustainable behavior by providing educational programs and affordable materials to the community. With countless adult and children workshops to choose from, you won't be bored indoors.
Lewisville:
Interskate Roller Rink (Lewisville Connect Route 22)
Are you looking for something to keep your family active but out of the summer heat? Interskate Roller Rink is the perfect way to get moving while having fun indoors! Admission ranges from $5 to $8, and skate lessons are available for first time skaters or those who want to learn something new!
Music City Mall at Vista Ridge (Lewisville Connect Route 22)
Anything from shopping, movies, a kid's adventure club and a musical performance stage, the Music City Mall Lewisville – formerly Vista Ridge Mall – has something for the whole family to enjoy out of the summer sun! The mall has a free playground and stage of musical performances and fun events including cat yoga with adoptable cats once a month and a mall-wide treasure hunt where you can compete to win prizes!
Wayne Ferguson Plaza (Lewisville Connect Route 22)
There's always something happening at this beautiful, urban park in Old Town Lewisville! With so many family-friendly events happening it can be hard to keep up. You can check out Sounds of Lewisville on Tuesdays, yoga and Pilates in the Plaza, art pop-ups and more. Check out the full list of events on their Facebook page.
Our Summer Youth Pass can help you get to these places and more throughout the summer months! For just $30, riders ages five through 18 can get unlimited access to the A-train and all DCTA buses and shuttles – including Denton and Lewisville Connect buses, UNT Campus Shuttles, the Highland Village Connect Shuttle and Community On-Demand – until the end of August. Passengers ages 14 to 18 years old must have a valid high school ID or DCTA-issued ID. Visit our Downtown Denton Transit Center (DDTC) or the Lewisville or Highland Village city halls to purchase our summer youth pass today!
Don't forget to check out our full summer adventure guide here for all of the fun things you can access when you #RideDCTA. Be sure and let us know in the comment section below what your favorites on the list are and share your adventures with us!
---
Sign up for Updates
"*" indicates required fields