Rider Tips
Dress for Success: Summertime Transit Tricks
July 22, 2019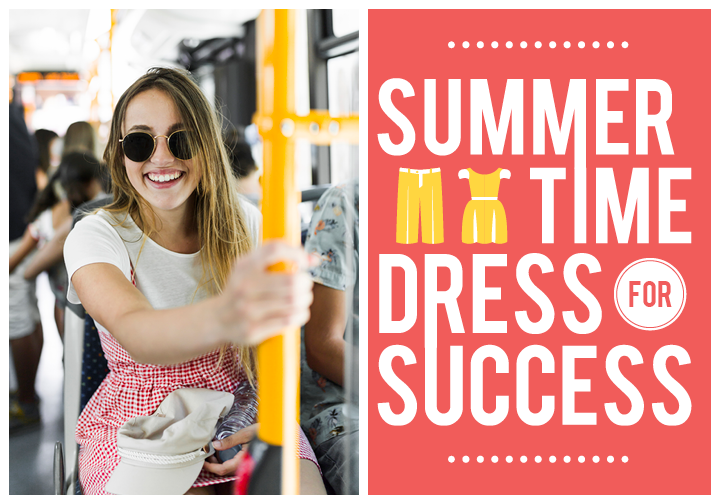 If you've ever experienced a Texas summer, then you know how challenging it can be to dress for work and avoid the inevitable summer sweats, especially when taking public transit. From unsightly pit stains to sweaty hair, the summer heat has a way of ruining any attempt to be fashion-forward. I have faced decades of Texas summers and have found several helpful ways to combat the heat and still look chic. Here are my go-to tips ranging from a low budget to a high budget:
Fabric
It all comes down to fabric choices. Silk, Rayon, polyester and Nylon are NOT your friends! Choose more breathable fabrics like cotton, linen and jersey. Although these fabrics tend to look more casual, you can totally up the wow factor by adding accessories or fabulous shoes.
Some of my favorite, work-appropriate summer dresses are:
Everlane Luxe Cotton Side-Slit Tee Dress – $50 – http://bit.ly/30GxXcB
Urban Outfitters UO Natalie Linen Belted Shirt Dress – $59 – http://bit.ly/2M211ra
Nordstrom Ellen Fit and Flare Cotton Dress – $198 – http://bit.ly/2GiFzKC
Color
This is a tough one for me because I prefer to dress in dark colors. But during the summer, I find alternative ways to incorporate black and navy into my summer wardrobe. Opt for light colors in clothing and dark colors in shoes and accessories. Dark colors attract the sun and hold in heat, which is a disaster waiting to happen.
Some of my favorite bright and airy wardrobe items are:
Old Navy Patterned Peplum-Hem Shirt – $17- https://oldnvy.me/32zVQ7H
Banana Republic Eyelet Top – $71.99 – http://bit.ly/2SnUPus
Anthropologie Corey Lunn Calter Piet Linen Skirt – $129 – http://bit.ly/2JQ5dYj
Cut
The cut of your clothes is everything during the summer. Avoid tight clothes because they will naturally keep you warmer and sweat will be much more visible. Try clothes that have a looser fit for breathability. If loose clothes aren't your jam, find options that hug your curves in the right places rather than hugging you from head to toe.
Some of my favorite breezy wardrobe items are:
Zara Embroidered Blouse – $19.99 – https://go.zara/2JUSMdy
Target Women's Floral Print Sleeveless Button-Down Shirtdress – $34.99 – http://bit.ly/2YjlHRH
Free People Sasha Pants – $69.95 – http://bit.ly/2Y6B5RF
Layers
We all know that cotton frocks often look less professional than a stunning suit, but adding layers (that you don't have to wear while in route) can amp up your look in a jiffy. I love to add a denim jacket or statement necklace with some of my more casual pieces to take them up a notch.
Some of my favorite laying pieces are:
Gap Icon Denim Jacket – $34.99 – http://bit.ly/32CdreW
Francesca's Tammi Metal Row Statement Necklace – $26 – http://bit.ly/2xZlwfQ
Go Bag
When in doubt, just be prepared. You never know when a heatwave is going to greet you at the door… it is Texas after all! I always keep a small "go bag" of items necessary when sweat takes over. You can customize your go bag with any items that you want, but here are the staples I keep in mine:
Refreshing Body Mist – $20.99 – http://bit.ly/2YdSEip
Mini Cell Phone Fan -$12.99 – https://amzn.to/2SqLoKS
Deodorant -$7.98 – http://bit.ly/2Sp8ce6
Oil Blotting Papers -$8.00 – https://seph.me/2YdYgcN
Baby Powder -$6.99 – http://bit.ly/2M24Yfc
Spiral Hair Ties -$9.99 – https://amzn.to/2M1Dir3
I'd love to know more about your go-to fashion tips for warm weather. Share your tips and tricks in the comment section below!
---
Sign up for Updates
"*" indicates required fields