Rider Tips
Roundup: July Public Transit Chatter
July 23, 2019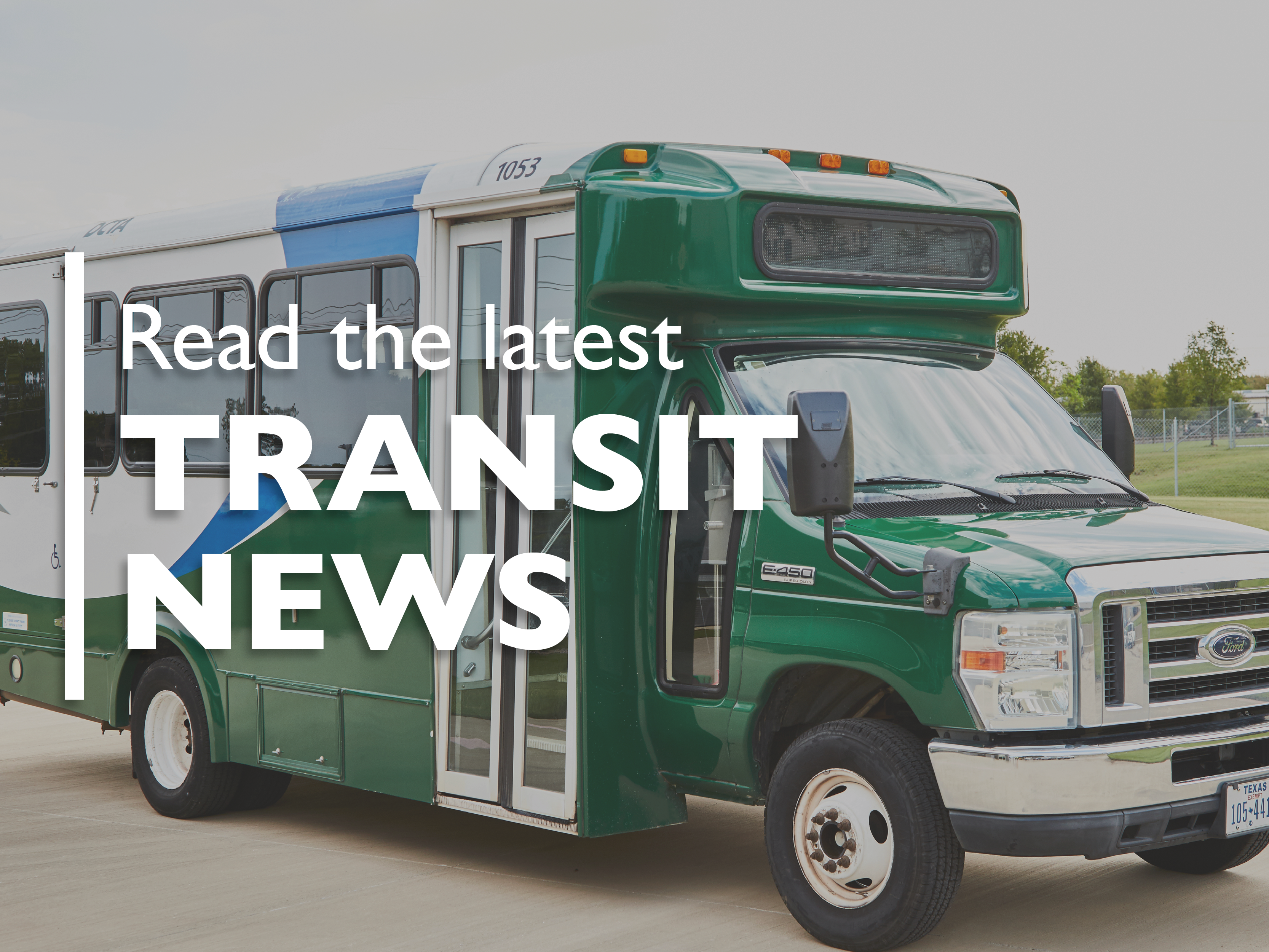 The year is now more than halfway over, but that hasn't stopped the slew of transit news that keeps on piling in! From decked-out bus stops to bamboo trains, check out our top stories we've rounded up for you to read this month:
Bus stop transformed into "first-class" experience
Who would've thought you could glamorize a bus stop! George Barratt-Jones, a design student, took it upon himself to create the "First Class Bus Stop" by setting up a bar-top with stools and serving people coffee, tea and a home-made cookie with cafe music playing in the background.
He decided to turn one bus stop into a "first-class" experience to make it more enjoyable for commuters riding the bus which is not typically associated with luxury and style.
What do you think of Jones' "First Class Bus Stop" creation? Would you want us at DCTA to glam up one of our bus stops or shelters for an improved passenger experience?
Earning rewards for public transit usage may be the key to bringing back riders
Following in the footsteps of airlines with frequent flyer loyalty programs and Transportation Network Companies (TNCs) perks such as Uber Rewards, public transportation agencies are moving full speed ahead with loyalty programs to entice passengers and hopefully increase ridership.
Transit agencies across the country are capitalizing on the spread of smartphones and mobile ticketing systems, which make personalized rewards much easier to administer, to treat daily commuters with complimentary drinks, gift certificates even free transit rides.
Below are examples of transit agencies across the country that launched "rewards" programs:
Bay Area Rapid Transit – a San Francisco agency launched a pilot program called BART Perks, offering small cash rewards to commuters who opted to travel at less congested, off-peak times. BART claimed it got around 10 percent of targeted riders to make the adjustment. It ran a second, similar experiment earlier this year, funded by a $500,000 federal grant, with results from the program slated this August.
Contra Costa Transportation Authority – another San Francisco agency launched a pilot program with a startup called Miles, whose smartphone app tracks a customer's location and uses machine learning to determine how they're moving. The program awards "miles" based on distance and the mode of transport. Walking one mile is good for 10 "miles." Driving the same distance nets you just one, with biking, transit, and ride-hail falling in between. The miles can be redeemed on the app for rewards through its partners (from whom Miles earns commissions). The agency gave Miles $50,000 to create "challenges" that offer select Contra Costa County residents a $5 gift card to retailers like Starbucks or Amazon if they adjust their commuting habits to drive less often.
Do you think public transportation loyalty rewards programs are a fad or here to stay?
Unique types of public transit around the globe
People all over the world are using interesting and unique forms of public transportation that span beyond the typical public bus, train or subway. From converted World War II jeeps to subway trains held up by magnets, check out mobility options that run the gamut of technology and creativity.
Jeepneys – these bus-like transports are considered a symbol of Filipino culture and were made from Willy Jeeps that were left by the United States after World War II in the early 1950s. The jeeps were lengthened to fit more seats, topped with a roof and painted colorfully. The unique, individual paint jobs featured on these jeepneys have attracted designers like Christian Louboutin, who released tote bags inspired by the vehicle in 2018.
Schwebebahn suspension railway – this iconic monorail in Wuppertal, Germany, rides above the city and the Wupper tributary. It began operation in 1901 and is now being used by about 85,000 passengers daily.
Noory – these bamboo "trains" consist of an engine and a six-foot by 10-foot bamboo board that sits on top of two axles with welded-on wheels. A wooden pole serves as the brakes and accelerator. The norry is a simplistic system as it rides on a single track, which means norry drivers and passengers need to dismantle their carriages to allow each other to pass if two of them meet head-on.
Which one of these unique transit options would you try? We think the Schwebebahn suspension railway system would be quite the ride!
Have a question or comment about one of the stories we featured, or is there a big headline you think we should have included? Leave your comment below. We'd love to hear from you!
---
Sign up for Updates
"*" indicates required fields