Rider Tips
Transit Jargon Cheat Sheet for Passengers
October 10, 2017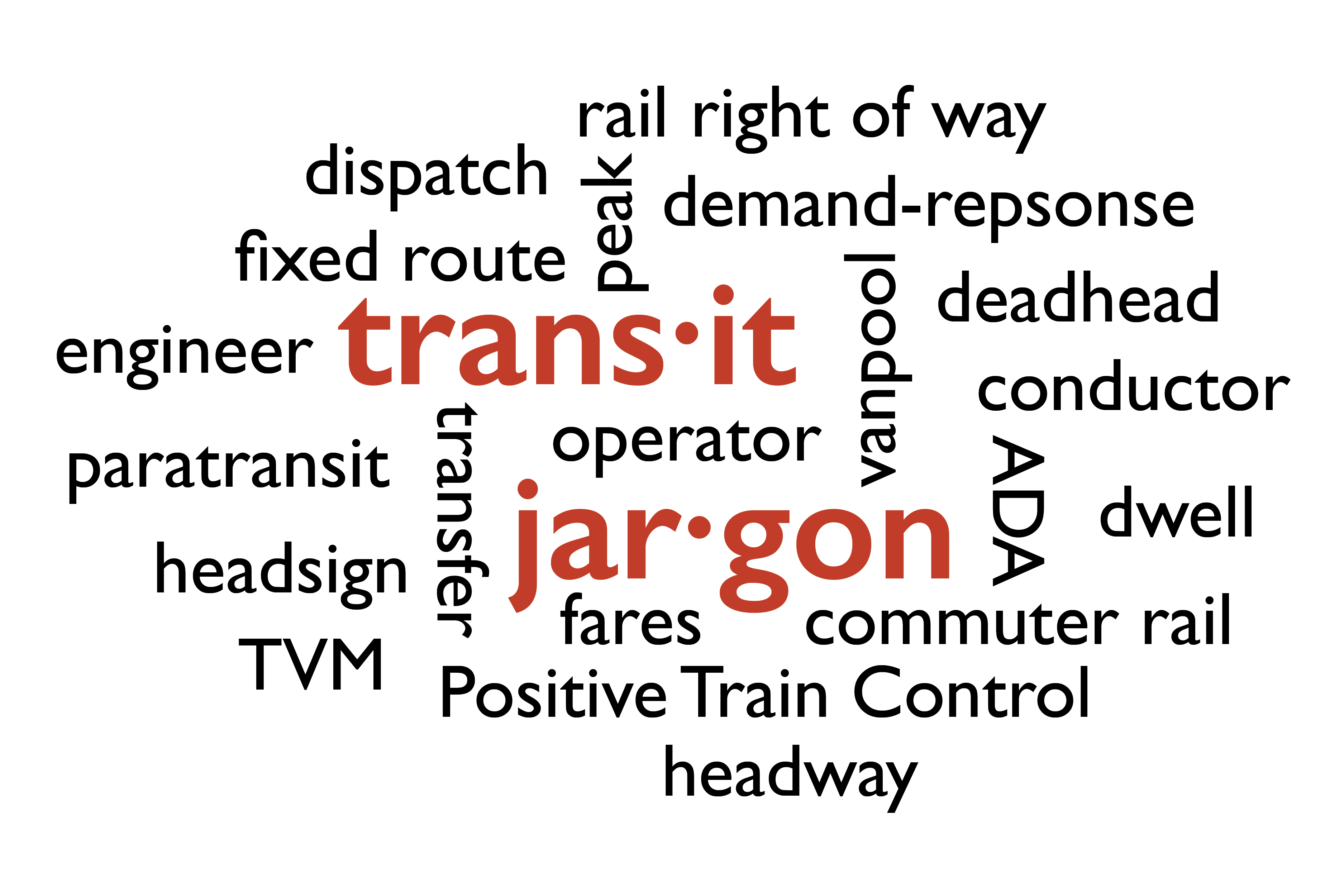 If you're a DCTA rider or spend any time on a public transit website, you know that there are a lot of terms and phrases unique to the industry. This can be more than a little bit confusing for those new to transit. Don't worry, we're here to help you understand the most commonly used jargon to help you use our services more effectively and better understand how DCTA operates!
ADA & Paratransit – ADA stands for Americans with Disabilities Act, a law passed by Congress in 1990. In regards to public transit, it refers to accessibility accommodations made for persons with disabilities. This may include wheelchair accessibility onboard vehicles, braille on signage, or special curb-to-curb services for those who cannot use traditional services.
DCTA has paratransit program is called Access.
Base Fare – The price charged to one adult for a specific transit pass; excludes transfer charges, discounts, and reduced fares.
The base fare for a local day pass on DCTA is $6.00.
Conductor vs. Engineer vs. Operator – These three often are described interchangeably in conversations, but there are some key differences:
Conductors are train crew members responsible for operational and safety duties that do not involve actual operation of the train
Engineers are responsible for operating the train
Operators are those who drive buses and other transit vehicles on the roadways
Commuter Rail vs. Light Rail – Commuter rail trains provide passenger service between central cities and their suburbs, typically operate only on work days during commute hours and usually run on the same railroad tracks as freight trains. Light rail is a passenger train that has a lighter frame and smaller body than most other trains.
DCTA's A-train is a 21-mile commuter rail, whereas the Dallas Area Rapid Transit (DART) trains are light rail.
Commuter Vanpool – A group of six to 15 people who commute together on a regular basis in a roomy, comfortable van. One person volunteers to be the driver/coordinator of the vanpool and rides free, and the rest of the riders share the cost of operating the vanpool.
DCTA's Vanpool program gives passenger access to areas not served by our other services.
Deadhead – A transit vehicle that moves without passengers aboard before or after its shift.
Some of our A-train schedules deadhead at Old Town Station and Trinity Mills station, so passengers must plan their trips accordingly to make connection further south.
Demand-Response – A transit service using small or medium-sized vehicles with flexible routing and scheduling, according to a passenger's needs.
DCTA's Highland Village Community On-Demand is a demand-responsive service that allows passengers to schedule a door-to-door ride within the Highland Village Zone.
Dispatch – Staff that work closely with engineers and bus operators to keep the transit system running smoothly by conveying instructions and route changes due to weather, traffic or construction.
DCTA's Bus Dispatch works out of our bus operations and maintenance facility and uses radios to communicate with all active operators.
Dwell Time – The scheduled time a vehicle is allowed to board/unload passengers at a stop; sometimes includes break times to make schedules align with other services.
The next time you see a bus sitting at a DCTA Connect Bus stop for a prolonged period of time, this is likely what is happening.
Fixed Route – A bus system on which a vehicle is operated along a designated route according to a designated schedule.
Our Denton and Lewisville Connect Bus are both fixed-route services.
Headsign – The digital signage on the upper front and side of the vehicle that tells you what route and/or direction it is running.
Most DCTA vehicles have a headsign on the front and entrance side of the vehicle.
Headway – The time interval between vehicles moving in the same direction on a particular route.
Denton Connect Routes 5 and 6 have been designed to have a 15 minute headway along Bell Avenue to better serve those headed to TWU.
Kiss and Ride – A place where commuters are driven and dropped off at a station to board a public transportation vehicle.
There are Kiss and Ride spaces available in the Downtown Denton Transit Center (DDTC) parking lot to allow drives to drop off bus and rail passengers.
Off-Peak / Peak – The periods of the day when travel activity is either low (less transit service is scheduled) or high (more transit service is scheduled).
DCTA offers more service on our buses and trains during morning and evening commute hours, since those are peak commuter travel times.
PTC – Positive Train Control (PTC) is an advanced system designed to automatically stop a train before certain accidents occur. In particular, PTC is designed to prevent:
Train-to-train collisions
Derailments caused by excessive train speed
Train movements through misaligned track switches
Unauthorized train entry into work zones.
PTC will not prevent vehicle-train accidents at grade crossings, or those due to track and equipment failures.
DCTA is currently implementing PTC for the A-train commuter rail line.
Rail Right of Way – The space within 25 feet of either side of a rail line. Unless you are at a designated crossing, station platform, or the A-train Rail Trail, stay out of the rail right of way to maintain safety.
Sometimes, rail rights of way have been used for things like our A-train Rail Trail to make use of the space in a safe and enjoyable way.
Time Point – A stop along a route that has a specific arrival/departure time listed in the schedule. Not all stops are listed in the schedule, so the time points can be used to determine the approximate arrival time for your stop.
DCTA has implemented a new Transit Tracker to help passengers know where their vehicle is in real time.
Transfer – When you need to use more than one route to complete your trip, you can ask your driver at boarding for a transfer slip to avoid paying a second fare.
A DCTA transfer slip cannot be used on the same route in the opposite direction. Check out our recent blog post on how to properly transfer to our other services here.
TVM – Ticket Vending Machines are located at either end of every A-train Station platform. Passengers can purchase their fare directly from the TVM using cash or a credit card.
DCTA even has a TVM at the Trinity Mills DART Station, if you need to purchase a pass.
Did we cover all the transit jargon? If not, let us know what other terms you'd like us to define in the comments section below.
---
Sign up for Updates
"*" indicates required fields