Fun Things To Do
Fun Things to Do: The Ultimate Highland Village Daycation Guide
September 19, 2019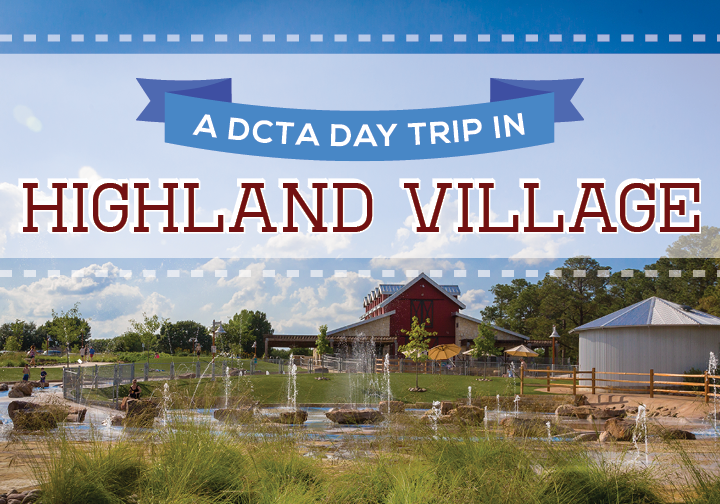 The hidden gems in the city of Highland Village provide the perfect escape for a delightful day out. From shopping to dining to entertainment, this quiet city has all the attractions that you could ever need. All our Highland Village highlights are conveniently located along our Highland Village Connect Shuttle route! You can also take advantage of our Highland Village Lyft Program to travel on your own schedule!
Brunch It up at Seven Mile Café (Highland Village Connect Shuttle)
Mankind's eternal, delicious quest to find the perfect brunch may have finally come to an end with the discovery of Highland Village's Seven Mile Café. Located conveniently on the route of the Highland Village Connect Shuttle, as well as in the Highland Village Lyft Zone, this delectable diner prides itself on its energetic atmosphere, engaging service and top-notch food. Irresistible, guilt-inducing staples on the menu include the perfect chicken and waffles, a "gravy train" biscuits and gravy experience and a mouth-watering assortment of custom pancakes.
For the health-oriented crowd, the açaí and yogurt bowls provide a pleasing punch, with a special highlight given to "The Island Bowl", a tasty, tropical treat perfect for an escape from the summer heat. To finish off your perfect brunch, there is an assortment of mimosas and fresh juices that can quench any thirst. Seven Mile Café is only open until 2 p.m. most days, so make sure that you come early and come hungry!
Flavor Your Life with an Icy Treat from Bahama Bucks (Highland Village Connect Shuttle)
For an icy indulgence to help calm the fires of our Texas summers, look no further than Bahama Bucks. Specializing in tropical-flavored shaved ice creations, the menu contains snow cone, smoothie, signature soda and coffee amalgamations. These curious concoctions span the flavor spectrum in both traditional and unexpected ways. The delightfully chocolatey, bitter-sweet "Kokomoko" combines dark chocolate with cola and mocha java flavors and provides an unexpected yet pleasant creaminess. The fruity and fun Wavebender, a combination of fresh bananas, pineapple juice, coconut and rum-flavored syrup, takes you on a tropical journey straight to the beaches of the Caribbean. A little-known secret is that Bahama Bucks also sells snowballs by the case year-round, allowing you to finally fulfill your snowball- fight-in-July fantasies. If you want to take your tasty treat on the go, make sure to book a ride in the Highland Village Lyft Zone program, as open containers are not allowed on the Highland Village Connect Shuttle!
Help Your Stress Drift Out to Sea at Float Away Spa (Highland Village Connect Shuttle)
Stress have you feeling down? Float Away Spa can help cure you of your doldrums as you float blissfully in a personal pod. Massage services are also available to help ease your achy muscles. Proponents of the spa claim that it can help relieve common aches and pains, reduce your stress and anxiety, improve your sleep and aid in workout recovery. You can expect a personalized experience with each visit, as Sean Sparks, LMT, serves as both the owner-operator and the sole massage therapist on-site. Combination and couples' discounts are available! To save the extra stress of driving under the influence of extreme relaxation, utilize the Highland Village Lyft Zone to preschedule your ride to pick you up after your session!
Savor Fine Dining at Bistecca (Highland Village Connect Shuttle)
You don't have to travel down to Dallas for fine dining destinations. Highland Village's Bistecca features award-winning chef Morris Salerno's unique American-Italian fusion cuisine. While Bistecca labels itself as an Italian steakhouse, its offerings expand well beyond the expected fare, with indulgences such as duck ravioli, South African lobster tail and assorted charcuterie rounding out an exceptional menu. Traditional cuts of meat take center stage as the stars of the menu, and you will not regret savoring a delectable prime bone-in ribeye, succulent lamb chops or a medley of veal preparations. Make sure to save room for dessert, with house specialties such as white chocolate cheesecake, panna cotta and Bistecca's signature Salerno souffle serving as the perfect way to finish off your evening dining experience. After your meal, hop onto the Highland Village Connect Shuttle! The route reverse to a counterclockwise direction in the afternoon, providing you direct access to your next stop!
Shop Until You Drop at The Shops at Highland Village (Highland Village Connect Shuttle)
The Shops at Highland Village is the ideal terminal location for your daycation in Highland Village!  The Shops have all of your shopping, grooming, professional service and entertainment needs all located in one convenient community.  Several dessert locations are available to fulfill any lingering sweet tooth you may have, including Ben & Jerry's Ice Cream and Nestle Toll House Café, or a nightcap can be savored at The Brass Tap or Lambeau's America.  Closeout the night with a screening of the newest blockbusters at AMC Highland Village 12.  Make sure to let your Highland Village Lyft Zone driver know to make room for all of your newly acquired couture!
Now that you have completed your perfect day out in Highland Village, you can start planning your next Denton County Daycation! Check out our UltimateLewisville Daycation Guide and UltimateDenton Daycation Guide for more tips for the perfect day trip. Comment below and let us know your favorite Highland Village destinations!
---
Sign up for Updates
"*" indicates required fields