Rider Tips
How to Use Ride Share Safely During COVID-19
June 8, 2020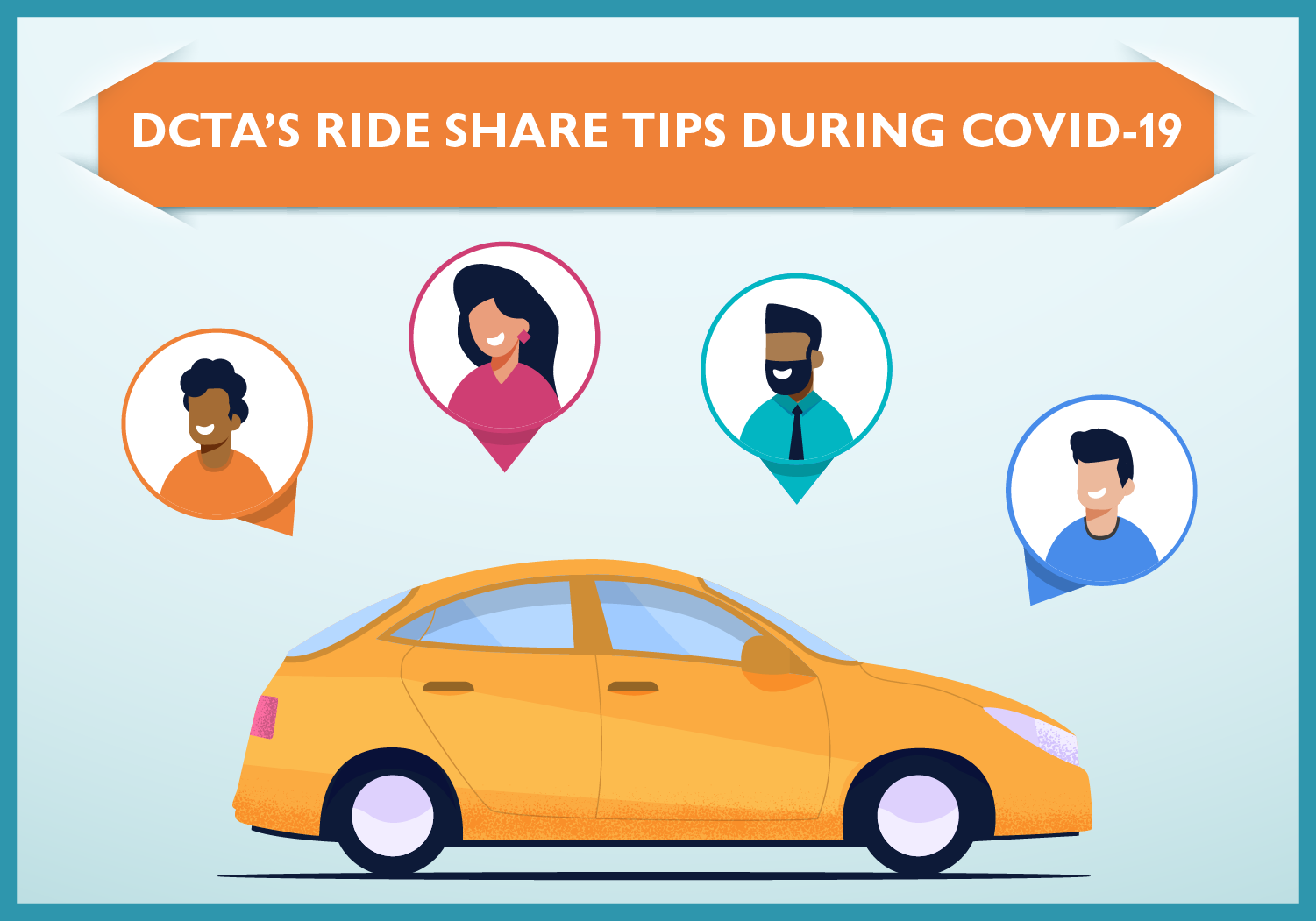 As businesses in North Texas begin to reopen, commuters should consider the proper safety measures to keep their trip as safe as possible. Riders who utilize ride share programs, on-demand services like Uber or Lyft and vanpools can use the below tips and information to stay safe when traveling. Keep reading to learn how to make your commute safer!
How You Can Stay Safe
It's important to keep your commuting vehicle as clean and well maintained as possible, whether it's a vanpool, your own multi-passenger commuting vehicle or a vehicle you use as a ride share driver. You can prevent the spread of coronavirus (COVID-19) and other flu-like illnesses by following the recommended tips from the Center for Disease Control and Prevention (CDC).
Below are a few recommended tips for vanpool groups, ride share drivers and passengers and commuters.
Passengers and drivers are highly encouraged to wear face coverings/masks while riding in their vehicle.
If you manage the vehicle, frequently clean and wipe down the interior of the vanpool vehicle with disinfectant cleaner, including dashboard, instrument panel, steering column/wheel, accessory panel, center console, cup holders, door handles, compartments, seats, between console and seats, between doorjambs and seats, door and door pockets, etc.
Stay home if you are sick, get plenty of rest and avoid others who are not feeling well. Employees who are feeling ill and exhibiting symptoms of a viral infection, including fever, cough or difficulty breathing, should not ride in a vanpool vehicle until symptom-free without aid of medicines.
Wash your hands often with soap and water for at least 20 seconds. If soap and water are not readily available, use an alcohol-based hand sanitizer that contains at least 60% alcohol.
Avoid touching your eyes, nose and mouth.
Cover your mouth and nose with a tissue when coughing or sneezing.
Maintain at least three-feet distance between yourself and anyone who is coughing or sneezing.
Clean and disinfect frequently touched surfaces, especially if someone is ill.
The CDC offers suggestions on their website for how ride share drivers can stay safe when picking up passengers. Learn more here.
What DCTA is Doing to Keep You Safe
We have worked diligently during the COVID-19 health emergency to keep our passengers and employees healthy and ensure a safe commute for our riders. Read what we're doing below and consider adding some of these steps to your own ride share commute!
All buses and trains are receiving additional cleanings using a medical-grade disinfecting cleaner as well as a daily spray down using a broad-spectrum disinfectant that is effective against a range of microorganisms for an extended period of time  
Additional cleaning (using medical-grade disinfectant) is being placed on high-touch areas such as door handles, crew rooms, countertops, driver consoles and steering wheels
Clear vinyl protection barriers are installed in each bus to provide separation between the operator and boarding passengers/farebox 
How the Illness Spreads
When an infected person (symptomatic or even asymptomatic) talks, coughs or sneezes; respiratory droplets can land in the mouths or noses of people who are nearby or can possibly be inhaled into the lungs. People who are in close contact with an infected person (within about six feet) can become affected.
The main COVID-19 symptoms include fever, cough and difficulty breathing. Reported cases range from mild illness (like a common cold) to severe pneumonia that requires medical care or hospitalization.
Staying Safe While Using DCTA's Vanpool
DCTA's Commuter Vanpool program allows a group of six to 15 people who work in the same area to ride to and from work as a group in a designated vehicle. One person volunteers to be the driver/coordinator of the vanpool and rides free. The riders share the cost of operating the vanpool. The vanpool group determines their daily schedule and route including one or more designated pickup locations, such as A-train stations or shopping centers.
Enterprise Rideshare, which is contracted by DCTA, owns the vans and provides insurance, maintenance, repairs, license and registration for the agency's vanpool program. This means the drivers themselves are fully responsible for the cleaning of the vehicle.
Vanpools often reduce stress, help the environment and save you money. In the wake of COVID-19, DCTA strongly encourages passengers of vanpool programs to stay diligent in their cleaning routines, wear a mask when in the vehicle with others and stay home when you are sick.
Do you have any tips you think we should add to this list? Let us know in the comment section below. Stay safe out there, commuters!
---
Sign up for Updates
"*" indicates required fields