Features and Profiles
Now Arriving: Denton Firefighters Museum
July 12, 2021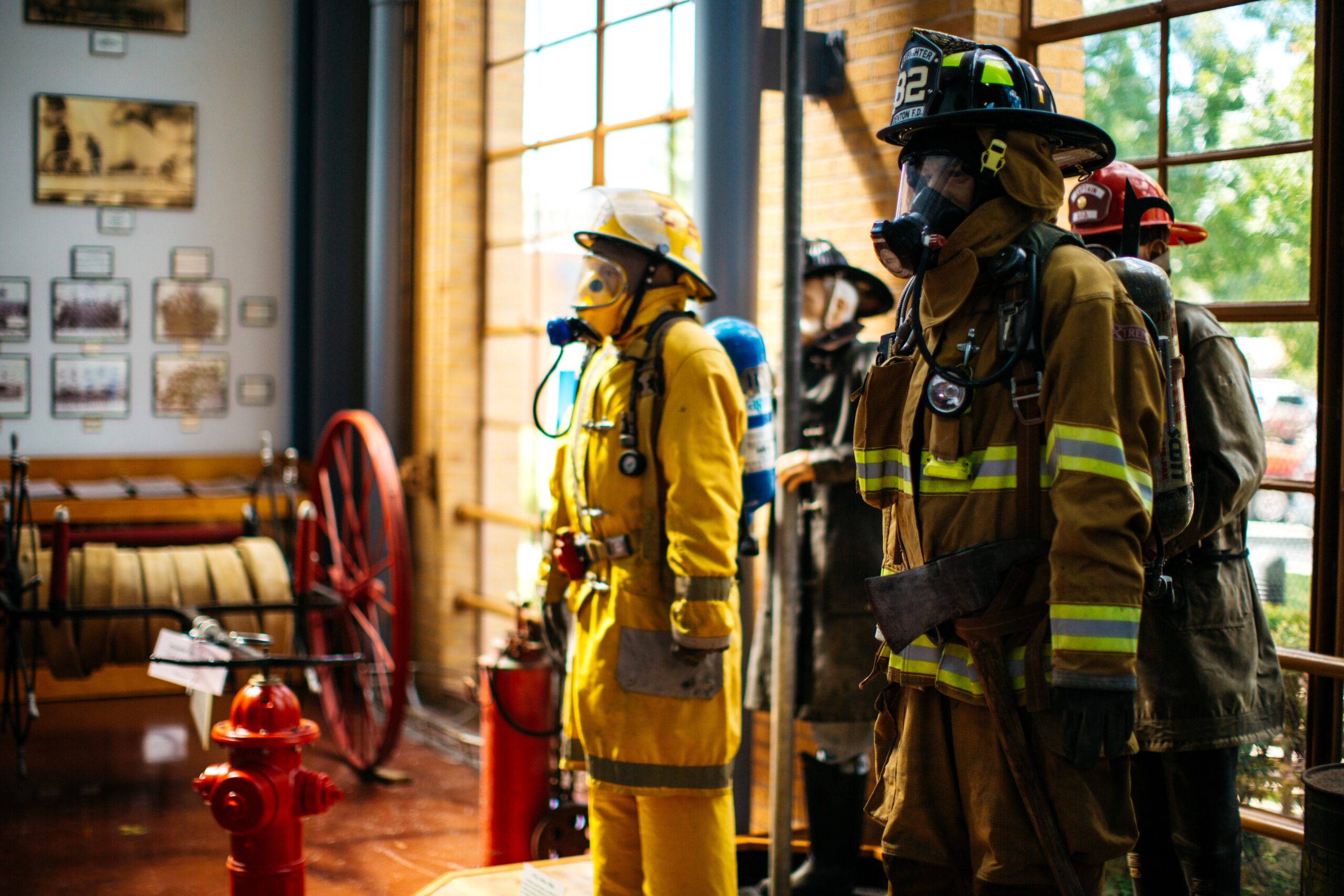 By Guest Author Robby Jonathon Stengel
Just a short walk from the Downtown Denton Transit Center (DDTC), the Denton Firefighters Museum is a wonderland for anyone, children and adults alike, who dreams of living the hero's life. The museum is located in the lobby of Denton's Central Fire Station, amidst the everyday action of fire and emergency services. But unlike most fire stations, you're welcome to drop in and peruse unique memorabilia spanning the 1800s to modern day.
The museum's walls and shelves are full of collectibles — including historical photos, a 150-year-old horse-drawn hose cart, and firefighter uniforms and gear spanning the last 100 years — but also some lesser known relics. The fire grenade, for example, is a glass, bulb-shaped bottle that was used in the 19th century and into the early 1900s before the much-more-effective fire extinguisher. The "grenade" would be thrown into flames, shattering the glass and releasing salt water or, later on, chemicals that would help extinguish fires.
If you plan your visit in advance, you can request a guided tour, during which you might learn even more fun facts. Group tours are encouraged, and you may even get to slip into a uniform or step into a fire truck.
Central Fire Station is also site to Denton's 9/11 Memorial Bell Tower. Outside the station, the 30-foot-high structure features a bell from the first Denton firehouses in 1884, but the centerpiece of the exhibit is a melted I-beam from the World Trade Center. The memorial was co-designed by local artist Millie Giles and local architect David Robinson.
Admission to the Denton Firefighters Museum is free and open to the public on weekdays from 8 a.m. to 5 p.m. To schedule a guided tour, call 940-349-8840.
To get to the Central Fire Station and Denton Firefighters Museum utilizing public transit, take DCTA's A-train to the DDTC. From there, it's a five-minute walk to 332 E. Hickory St. After you visit the museum, continue down Hickory Street to check out local hotspots or make your way to the Downtown Denton Square.
Do you plan on visiting the Denton Firefighters Museum? Know of another key place of interest we should feature next in our "Now Arriving" series? Let us know in the comment section below!
---
Sign up for Updates
"*" indicates required fields