Rider Tips
Program Spotlight: NCTCOG Try Parking It
May 17, 2016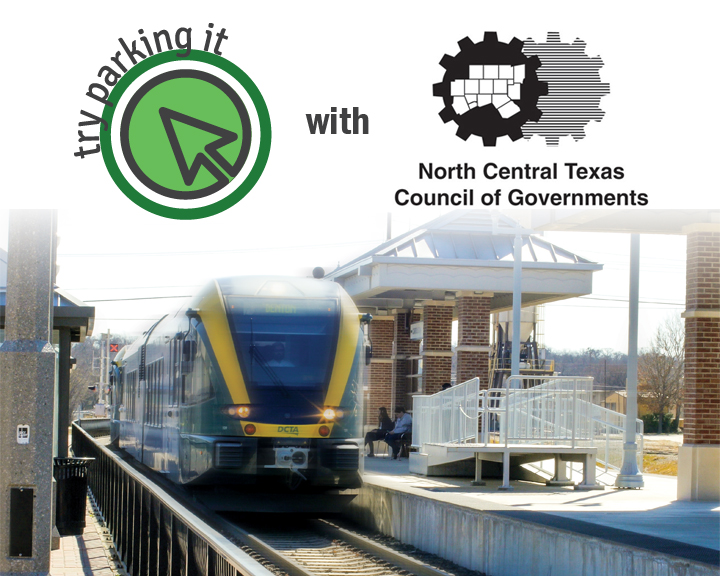 Are you a regular commuter or striving to become one? Then you should check out the North Central Texas Council of Government's (NCTCOG) Try Parking It program available for North Central Texas commuters. The ride-match and trip-logging program can help you locate ride matches via carpool and vanpool, as well as with transit, biking or walking. In addition to finding ride-matches, Try Parking It users can also track their contributions to cleaner air and congestion reduction. Users receive a personal estimate of miles saved, trips reduced and harmful emissions reduced each time they record their alternative commute.
In addition to your efforts to improve air quality and reduce congestion, you can earn points to enter contests, purchase prizes, store discounts and more. The more active you are on the site, the more opportunities you will have to redeem one NCTCOG's various G.R.E.E.N. prizes.
Reward System
Try Parking It features an Integrated Reward System for active participants. The more you utilize and log alternative commutes, the more opportunities you will have to earn points to use towards prizes and giveaways in three categories: Contest, Purchase, and Milestone.
Contests: Users may submit a specified amount of points for a chance to win the listed contest prize. You can enter as many times as allowed with the points available and required.
Purchase Rewards: Users may use their earned points as currency to buy prizes.
Milestone Rewards: Users will gain these awards automatically after logging a number of specific types of commute trips and overall commute trips.
In order to accumulate points for rewards, make sure you use the Commute Calendar tool which measures your alternative commute activities and financial and environmental savings. Record your commute trips on a daily or weekly basis and watch the numbers—and your contribution—add up!
Four-Step Program Process
Now that you know about the program, follow these four simple steps to get on your way to helping improve air quality in North Texas and win prizes!
Register – create an account.
Rideshare – choose your alternative rideshare mode of transportation.
Record – log all daily or weekly commute trips.
Reward – earn rewards and prizes.
For more information on the Try Parking It program, visit www.tryparkingit.com. Tell us how you plan to participate and which prizes you're interested in winning in the comment section below!
---
Sign up for Updates
"*" indicates required fields