Rider Tips
Take a Peek Inside DCTA's Past Six Months
May 7, 2019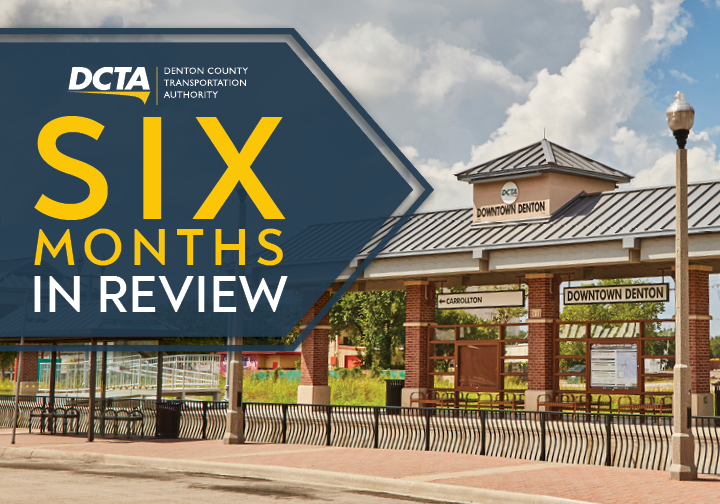 The last six months here at DCTA has been a whirlwind! From leadership changes to focusing on stakeholder engagement to implementing innovative service strategies, we've been busy as ever redefining who we are and the services that we provide.
New Leadership
In September 2018, Raymond Suarez was named DCTA's new CEO and hasn't looked back. Suarez has led agency and regional change with gusto and we are all on board!
Suarez's first decision in office was to restructure DCTA staff to ensure the agency could manage his innovative vision and direction. Key positions were redefined, new staff was hired in areas that were struggling and responsibilities were realigned to create accountability and an efficient workflow throughout the organization.
Redefining how DCTA Does Business
With an updated staff structure and a team rallying behind him, Suarez placed a major emphasis on redefining how the agency does business. Rather than planning internally first, Suarez flipped the script and engaged stakeholders to gather their feedback before encouraging staff to develop a service model that best met the needs of the communities served. Suarez has placed primary emphasis on active listening and innovative service strategies to ensure that the agency delivers.
Innovative Change
Within the first six months under Suarez's leadership, DCTA has experienced a series of successes. The agency signed a new three-year agreement with the Amalgamated Transit Union, the Federal Railroad Administration (FRA) approved the agency's Revenue Service Demonstration (RSD) and the A-train is currently operating Positive Train Control (PTC) on select train runs and the agency's Board of Directors approved the stand up of a local government corporation to increase efficiency and improve the effectiveness of the agency's bus service. And that's not all. Suarez has a lot more on the horizon to advance regional mobility in one of the fastest growing counties in the US.
Suarez is walking the walk when it comes to engaging with and actively listening to stakeholders. Under his direction, DCTA staff is currently developing an operating cost model by city alongside the Texas A&M Transportation Institute (TTI), a leading research institute known for their credibility and technical expertise across all facets of transportation. Suarez has also brought in industry experts to assist with redefining how we can enhance member city investment through a financial assistance program.
But the end still isn't in sight. Suarez is pressing his leadership team to focus on a regional shared vision to implement efficient, effective and innovative mobility services. This includes becoming a "broker of services" to the region and beyond through a multitude of service contracts that we will sign as part of the Mobility as a Service (Maas) RFP that was released in January. In addition, we will host strategic visioning sessions with all stakeholders and are currently planning to host a regional transportation forum this summer.
Six Months and Beyond
There is no doubt that Suarez is dedicated to positive change that will impact access to mobility throughout the region. With a staff behind him who fully support his vision, there is no doubt DCTA will be making big waves that change the face of transportation as we know it today.
With all the recent changes and updates, lots of exciting new things are coming. Tell us which change you are most excited about in the comments below!
---
Sign up for Updates
"*" indicates required fields