Features and Profiles
Why I Ride DCTA – Nancy Viens
June 24, 2015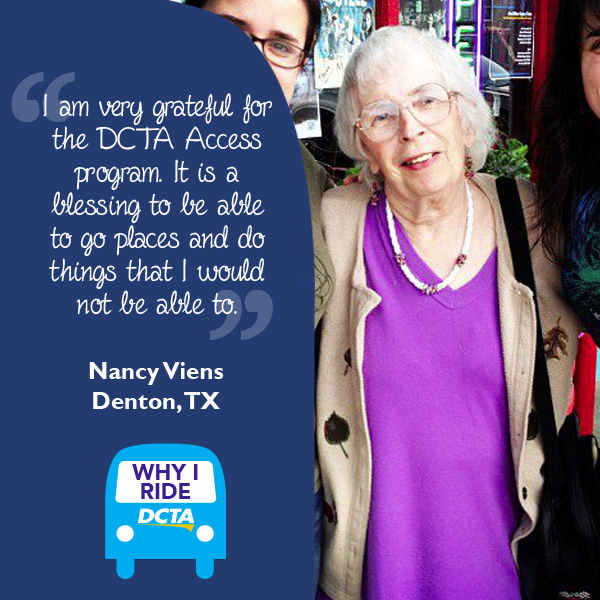 Nancy of Denton utilizes DCTA's Access service to get to the Denton Senior Center and doctor's appointments. See what else she had to say about us:
Q: What do you enjoy most about riding DCTA?

A: I am very grateful for the DCTA Access program. It enables me to go to the Senior Center twice a week, as well as get to my doctor's appointments on time, at a very reasonable price. I am 83 years old, and do not drive, so this is a blessing to me to be able to go places and do things that I would not be able to. Thanks to all of you folks at DCTA!

Q: Do you have any advice about riding DCTA to passengers and non-passengers?

A: If you do use the Access program and cannot keep an Access appointment, be sure and call the office and let the people know about it.

Q: What are some of your favorite things to do while riding DCTA?

A: I get a kick out of chatting with the drivers, and also the other passengers, it makes the time pass quickly.  Everyone is so considerate of us older folks, and it makes the trip a lot more fun.

Q: Is there anything you'd like to share about yourself?

A: I was a secretary at Willis Library at UNT for 20+ years, I write poetry, play a little piano, love my kids and my kids' kids, live with two sweet kitties and read all the time!
Thanks for sharing with us! Why do you ride DCTA? Tell us here for a chance to win a 10-pack of regional day passes!
---
Sign up for Updates
"*" indicates required fields