Features and Profiles
Why I Ride DCTA – Paulo Castillo
July 29, 2015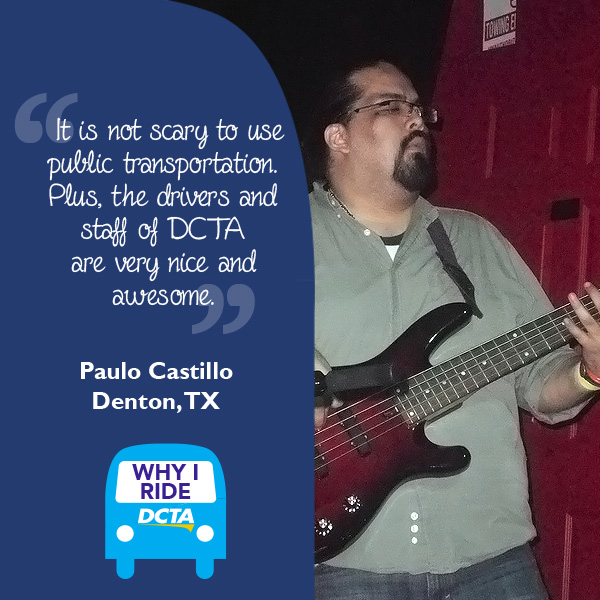 Paulo of Denton has ridden the A-train and Denton Connect bus system since he was a student. See what he had to say about us:
Q: What do you enjoy most about riding DCTA?

A: When I was a student, the free Connect buses did wonders when running errands. Since I also live close to the MedPark Station, I can and have jumped on the A-train to get to Carrollton, Dallas and the DART. I can not speak highly enough about this awesome service.

Q: What are some of your favorite things to do while riding DCTA?

A: I absolutely catch up on the news and social media on my phone. sometimes I'll go through my purchases, and listen to music, but more often than not I'll be checking my phone. 

Q: Do you have any advice to DCTA passengers and non-passengers?

A: It is not scary to use public transportation. Plus, the drivers and staff of the DCTA are very nice and awesome.
Thanks for sharing with us! Why do you ride DCTA? Tell us here for a chance to win a 10-pack of regional day passes!
---
Sign up for Updates
"*" indicates required fields